A good implementation plan is important. Checkout the following link for ideas of how to go about that….
Developing a checklist for guideline implementation planning: review and synthesis of guideline development and implementation advice Anna R Gagliardi, Catherine Marshall, Sue Huckson, Roberta James and Val Moore.
Here you can download resources to get started with LoafnBread in your hospital.
Download your starter pack using the links below which include:
Two surveys with which to assess your learning environment before and after introduction of The Educational Checklist

An A4 sized colour copy of The Educational Checklist to display in your place of learning


An A4 sized page with 6 name-badge sized templates – to be laminated and given to learners
Please use all of these resources to help you introduce the Educational Checklist to your workplace.
So how can you introduce LoafnBread to your department?
We think you need to do three things:
Get colleagues to understand why you need to do this.
Get the learning materials out there for people to use
Give feedback on how the process is working (to yourself, the team and hopefully to us too).
STAGE 1: Getting started
Getting colleagues involved can be tricky. We think the best way to do this is to look at what is happening now. How good is the feedback that you are currently giving to your learners?
What are the results of surveys (eg. GMC NTS), what feedback have you received, what do you think is going well and what else could be improved?
It's good to have a baseline so that you know where you are now and how far you've gone when you look back in a few months time.
To get you started, ask your learners to complete the first survey below (it looks at your learning environment through the eyes of your learners). This will give you an idea of how good your current learning environment is before you introduce LoafnBread.
The second survey (at the bottom of the page) is one to keep for the future. It's a great way of measuring progress once LoafnBread is up and running.
Initial Survey – Assess your learning environment



Share the results of this survey with trainers and trainees. It might tell you that everything is fabulous, but we suspect it is more likely to suggest that we can improve on how we feedback to trainees. Our experience is that we all know feedback to be really important, but that we don't always do it as well as we could.
 Stage 2: Download the learning materials
2a: Use the printable A4 Checklist below. Make sure this is displayed on the wall in a location visible for both trainees and trainers (I put it on the WHO checklist board in theatre and in the anaesthetic department. Anaesthetic room doors, coffee rooms and changing rooms are also a good bet). Use this as a prompt to remind the team to discuss learning objectives at the start of the session (LOAF) and as an aide memoire for the debrief (BREAD).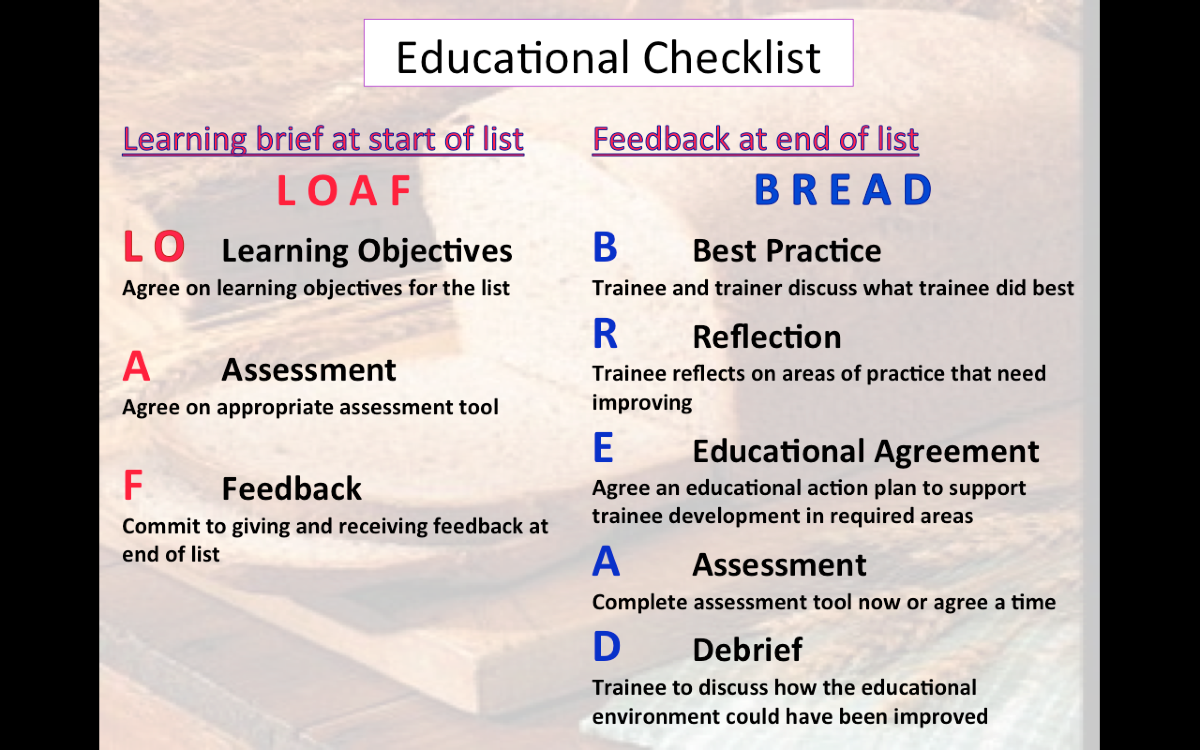 2b: Print off some name-badge sized checklist cards. Print this PowerPoint presentation as detailed below:
Enter print page
In the section labelled Layout:  Select – handouts (6 slides per page)
I put useful department telephone numbers on the other side of the card, making it doubly useful!
Stage 3: Give feedback on how the process is working (to yourself, the team and hopefully to us too)
Follow up Survey – Has LOAFnBREAD improved your learning environment?
You can use this data to show how an educational intervention has changed your educational environment for the better. This is great for portfolio work and could be a great project for trainers or trainees interested in improving feedback. It's also a way of validating the efforts you've put in to improve training.
Of course we would love to hear how you get on too, so in return, please can you enter a comment in the CONTACT page we would be really, really grateful. It would be good to see the LOAFnBREAD community grow!